Dunhuang & Silk Road Seminar Series, 2023
Dates: Easter Term (May-June 2023)
We hold a series of talks each term whose overall theme links with Dunhuang and/or the Silk Road.
These take place in-person and, where possible, are streamed via Zoom (requires pre-registration).
All talks are on Thursdays and will begin at 5pm UK Time, lasting an hour with time allocated afterwards for questions, debate, and discussion.
Except as noted below, all talks take place in Room 9 of the Sidgwick Site Lecture Block.
We welcome listeners from all fields who feel that these talks may help their own research or who are curious to know about the diverse topics covered.
You can also see some of our recorded talks on YouTube
This seminar series is organised by Prof. Imre Galambos with the generous support of the Glorisun Global Network and Dhammachai International Research Institute.
Location Note: Kindly refer to the map for directions. Please note that the room is located on the third floor of the building. There is a lift available on the left after entering through the main door.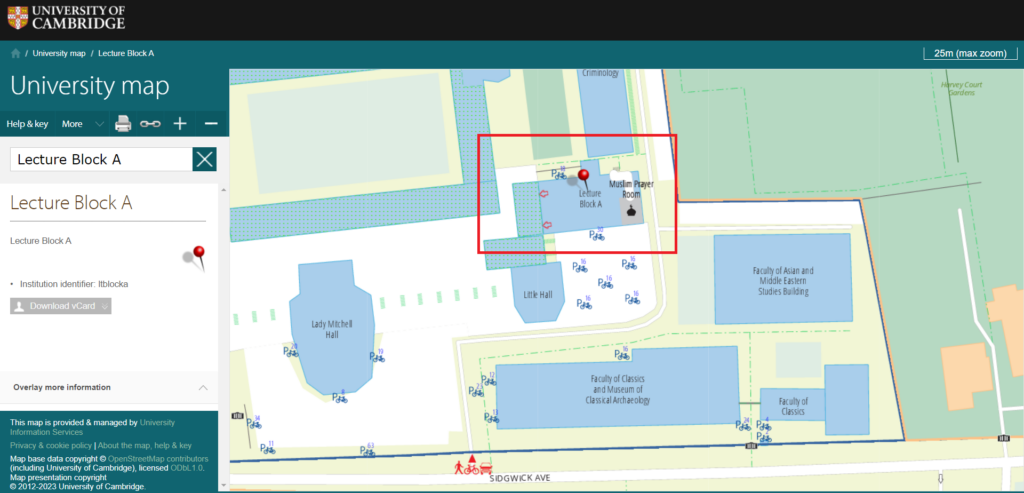 Seminar Schedule
Thursday, May 11, 2023 in Room 9 (Lecture Block) CB3 9DA or Zoom (please follow this link to register)
Prof. Chris Jones, Cambridge University
Buddha-nature Between India and China: Analysing the Creative Trans- lation Work of Dharmaksema in the Early Fifth Century

Abstract: The fifth-century Buddhist author Tanwuchen 曇無讖 (385–433), whose Indian name is usually reconstructed as Dharmakṣema, is best known for having translated the monumental 'Niepan jing' 涅槃經 (Taishō 374): the longer and more influential translation into Chinese of what in India was the Mahāyāna Mahāparinirvāṇa(mahā)sūtra. His oeuvre also includes a Chinese version of the Mahāmeghasūtra (Taishō 387), which together with the Mahāparinirvāṇa has been considered a formative work in the development of buddha-nature teaching in India, associated with the enigmatic term tathāgatagarbha (Ch. rulaizang 如來藏). With a focus on versions of the Mahāmeghasūtra, of which a recently discovered Sanskrit manuscript is currently being edited, this paper reassesses the place of both of these Mahāyāna discourses in the early life of teaching about buddha-nature. We will see evidence that much of what is received about buddha-nature in fifth-century China may not have a firm basis in Indian literature, and instead owes a debt to interpolations and interpretations that were perhaps supplied by Dharmakṣema's own hand.
Biography: Chris Jones is a Research Associate of Selwyn College, and teaches at the Divinity Faculty of Cambridge University. His work focuses on Mahāyāna Buddhist literature of the early Common Era, as extant in Sanskrit, Chinese and Tibetan sources. Among other work, he is author of The Buddhist Self: On Tathāgatagarbha and Ātman (University of Hawai'i Press, 2021), as well as editor of Buddhism and Its Religious Others: Historical Encounters and Representations (OUP, 2022).
Thursday, May 18 , 2023
No seminar this week
Thursday, May 25, 2023, 17:10, in Room 9 (Lecture Block) CB3 9DA or Zoom (please follow this link to register)
Location Note: Please note that the room is located on the third floor of the building. There is a lift available on the left after entering through the main door.
Dr. Dror Weil, University of Cambridge
Polyglossia, Trans-local Materialities and Textual Performability: Jewish Texts in Early Modern China
Abstract: The "Silk Roads" framework has been very successful in shedding light on the multi-cultural landscapes of Asia and the vibrant intra-Asian exchanges of peoples, texts, artefacts, and ideas mainly during the first millennium CE. Very little, however, has been suggested about the ways by which this early multiculturalism and intra-Asian exchanges played out in the second millennium CE. Liturgical texts and inscriptions' rubbing from the Jewish synagogue in Kaifeng, China, as well as the notes left by European missionaries who visited the place, offer a rather rare glimpse into the textual archive of a religious community at the heart of early modern China and its intra-Asian roots. In addition to an overview of the history of the Jewish community in Kaifeng, this talk will shed light on the unique features of this community archive. It will discuss the interweaving of Hebrew, Aramaic, Persian, Arabic and Chinese in its texts, the distinctive material choices and classifications, and the modes of articulation and performability that are embedded in the available records of this community.
Biography: Dror WEIL is an Assistant Professor at the Faculty of History, University of Cambridge. His publications focus on scientific, medical, and other textual exchanges between the Islamicate world and China during the late medieval and early modern periods. His publications include a co-edited volume Premodern Experience of the Natural World in Translation (Routledge, 2022); "Islamicated China – China's Participation in the Islamicate Book Culture during the Seventeenth and Eighteenth Centuries," Intellectual History of the Islamicate World (2016); "Chinese-Muslims as Agents of Astral Knowledge in Late Imperial China" (2022) and "Collation and Articulation of Arabo-Persian Texts in Early Modern China" (2023).
Thursday, June 1, 2023, 17:10, in Room SG2 (Alison Richard Building) or Zoom (please follow this link to register)
Dr. Francesco Bianchini, University of Cambridge
How "Public" was Buddhism's Engagement with Medicine? Sketches from Pre-1400s Asia
Abstract: Can we develop a balanced narrative on Buddhism's early engagement with communal health that avoids being either overly positive or quickly dismissive? The history of hospitals, the performance of rituals for community welfare, landscape interventions, as well as Buddhist-inspired political ideology – these and other topics can be brought together transcending regional and disciplinary boundaries. In this talk, I would like to present some of the evidence that I have collected so far, discussing why I find the notion of global "healthscaping" useful.
Biography: Francesco Bianchini is a medievalist and a member of King's Silk Roads team. He has published on royal patronage of South Asian religions, Sanskrit manuscripts, Buddhist scriptural traditions and their Chinese translations (Perfection of Wisdom) and epigraphic sources. For the Silk Roads programme, he is looking at medical encounters and "healthscaping" between South Asia, Southeast Asia and China, with a focus on mobility and knowledge exchange. He has taught religion and history courses at Oxford, Heidelberg, Mahidol and Cambridge. He supervises papers on Hinduism and Buddhism for Divinity (B16) and is affiliated to the History Faculty, contributing to discussions about the Global Middle Ages.
Thursday, June 8 , 2023
No seminar this week
Thursday, June 15, 2023 in Rooms 8 & 9, Faculty of Asian & Middle Eastern Studies
Prof. Georgios Halkias, University of Hong Kong
The Encounter of Hellenism with Buddhism: A Tale of Conversion and Cultural Diffusion
Abstract: The multifaceted encounter between Greeks and Buddhism in Central Asia and India led to the convergence of these two systems of thought which had a profound impact on the development of religious and intellectual perspectives in the course of human history. This intercivilizational meeting provides us with a unique lens through which we can witness the cross-cultural influence between Hellenism and Buddhism expressed in selective visual programmes of the Graeco-Buddhist art of greater Gandhāra spreading across the region of Uzbekistan, Pakistan, northwest India and the Tarim basin. Drawing on some historical, epigraphical, archaeological, and textual sources, I will briefly survey evidence for the earliest contacts between Hellenistic and Buddhist cultures that facilitated the conversion of Greeks to Buddhism, and compliment the discussion by looking at the cosmopolitan environment of the Hellenistic world and the philosophical and spiritual commonalities shared by Buddhism and Hellenism.
Biography: Georgios T. Halkias is the Director of the Centre of Buddhist Studies at the University of Hong Kong. He earned his DPhil in Oriental Studies at the University of Oxford with a focus on Tibetan and Himalayan Buddhism. His dissertation turned into his first book, Luminous Bliss: A Religious History of Pure Land Literature in Tibet  (Hawaii 2013). Since then, he has researched and published on Tibetan Buddhist literature and history, the interface between Buddhism and Hellenism in India and Central Asia, and Pure Land Buddhism in Tibetan contexts. His most recent publications include The Copper-Colored Mountain: Jigme Lingpa on Rebirth in Padmasambhava's Pure Land (Shambhala 2022), Pure Lands in Asian Texts and Contexts: An Anthology (Hawaii 2019), and Religious Boundaries for Sex, Gender, and Corporeality (Routledge 2018). He currently serves as co-editor-in-chief for the Oxford Encyclopaedia of Buddhism.
Friday, June 23, 2023 in Rooms 8 & 9, Faculty of Asian & Middle Eastern Studies or on Zoom (please follow this link to register)
Mr. Daniel Sheridan, University of Cambridge
The Medicine of Life and Collapsing Mountains: Uncovering the Sogdian Christian Presence Along the Silk Roads
Abstract: In 1623/25, the now famous Chang'an Stele of 781 was unearthed; this sizable limestone inscription attested to a then virtually forgotten Christian presence in Tang China beginning in the early seventh century. From the late 1800s through to the present, further discoveries have shown Christians had a notable, durative presence in Central Asia and, for at least several centuries, in China. The emergent scholarship on Christianity's spread along these Eurasian trade routes has roughly paralleled interest in the Sogdians, an Iranian people famed for their trading prowess along these same trade routes. Alongside their mercantile activities, Sogdians are also credited with spreading the teachings of Buddhism, Manichaeaism, Zoroastrianism, and Christianity. Yet often the supporting details for such activities of Sogdian Christians are neglected when making such attributions. Indeed, for the role of Sogdian Christians within larger Christian networks, the evidence is often sparse and challenging to decipher. This talk will introduce this Sogdian Christian presence and then offer two examples suggestive of their "networking" activities: a rare addition to the narrative of the Messiah's Passion apparently unique to extant Sogdian and Chinese witnesses as well as the textual transmission and possible influence of the appellation for Jesus as the Medicine of Life.
Biography: Daniel J Sheridan is a PhD candidate supervised by Prof. Imre Galambos at the Faculty of Asian and Middle East Studies, University of Cambridge. He previously obtained an MA in Iranian Studies from SOAS, University of London. Through the case studies of book culture, knowledge transmission, and medicine, his dissertation project is concerned with the role of Sogdian Christians within early Christian networks along the Silk Roads (c. 500-c. 1000).
---
For further information, enquiries, and comments, or to join the seminar e-mail list contact:
Junfu Wong
PhD candidate
Faculty of Asian and Middle Eastern Studies
E-mail: jw2034@cam.ac.uk
See original post
Dunhuang-Seminar-Easter-2023