A seminal figure in the trailblazing '85 New Wave that challenged state-sanctioned socialist realism, Sun Ren 孙人 was the model for the iconic work, The Second State, painted by his close friend and collaborator Geng Jianyi, which would become emblematic of contemporary Chinese art. CAMLab is thrilled to present a lecture by artist, playwright, and pioneer of ceramic art Sun Ren as part of a week-long series of events on contemporary Chinese art. Exploring themes of medium, materiality, and history, the series investigates how contemporary artists are engaging with China's millenia-long pottery tradition.  Reserve your spot here.
Sun Ren's visit to Harvard occurs alongside the exhibition, Fire Dream: Zhao Meng and the Reinvention of the Clay Medium, featuring photographic prints by ceramic artist Zhao Meng 赵梦, who was among Sun's earliest students at the China Academy of Art. Complicating the boundaries between the artificial and the real, the digital and the material, Zhao's prints spectrally capture Zhao's ceramic pieces designed to resemble garden rockery. With rice straws and other paper-making pulp worked into the clay in the initial firings of the ceramics, which are then subsequently digitally captured, sutured, and printed on rice paper, the work performs the full cycle of material transformation.
About the Speaker: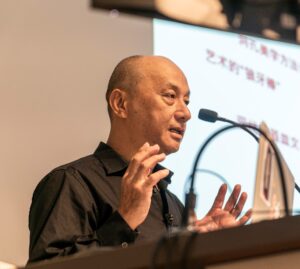 Sun Ren is an Associate Professor at the China Academy of Art and Vice President of China Contemporary Art Research Institute. He graduated from the Zhejiang Academy of Fine Arts in 1985, where he would later become a professor. An active participant of the Chinese avant-garde Art movement, '85 New Wave, Sun is well known for his pioneering approach to modern ceramic art, while also exploring modern inkbrush and conceptual painting. In 1985, he directed the modern absurdist play "Hamlet in Heaven." In 1986, he curated the avant-garde "'86' Final Exhibition No.1." In 1988, he held a research-based modern ceramic art and ink painting solo exhibition, and participated in the first China Avant-Garde Art Seminar (Huangshan). In 1989, he participated in the first "China/Avant-Garde Exhibition" (Beijing). Since 2010, Sun has visited Tibet, Nepal, Bhutan, the United States and New Zealand to conduct in-depth research on the international crisis of glacier melting and water pollution, which resulted in the series "The Himalayan Apocalypse." At the same time, he continues to explore the visual language of contemporary ink painting. As the leader of the Public Art Department of the China Academy of Art, Sun has spearheaded a number of large-scale public art projects.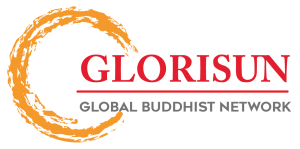 Sponsored by the Glorisun Global Network for Buddhist Studies and Tianzhu Global Network for the Study of Buddhist Cultures.