Speaker: Venerable Dr. Ding Yuan
Lecture 2: Importance and Implication of Foreign Buddhist Manuscripts for the Chinese Buddhist Studies—the Case of Buddhist Manuscripts in Japan
Date: December 7, 2020
Time: 6:30-8:00 pm (HKT)
Click here for the lecture recording.
Abstract:
Foreign Buddhist manuscripts, by which the Buddhist manuscripts in the Chinese language preserved outside China, find their most abundant reserve in Japan. The lecture introduced the sources, codicology and transmission of Buddhist manuscripts in Japan. On this basis, the lecture then surveyed the Japanese scholarship during the past century concerning these manuscripts; and highlight the importance of Japanese Buddhist manuscripts as sources that hold irreplaceable values for studying Chinese Buddhism, such as for studying the canons of Chinese Buddhist manuscripts and recuperating books lost in China. It could even be useful for collating a text with multiple editions or reconstituting the content of a lost text.
About the speaker: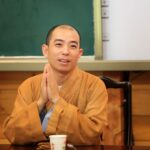 Venerable Dr. Ding Yuan completed his M.Phil. in Buddhist Studies at the Hanazono University in Kyoto, Japan in 2008. In 2011, he obtained his Ph.D. in Buddhist Studies at the International College for Postgraduate Buddhist Studies in Tokyo, Japan. He has served as a researcher for the Research Institute for Japanese Manuscripts of Buddhist Scriptures at the International College for Postgraduate Buddhist Studies (Tokyo, Japan) from 2011 to 2013 and is now the Visiting Associate Professor of the Centre of Buddhist Studies, The University of Hong Kong, and Associate Professor at the College of Philosophy, Law & Political Science, Shanghai Normal University in China. He is specialized in Buddhist philology and his key research areas include the study of Dunhuang manuscripts and old Japanese manuscripts of Buddhist scriptures. His published books include《敦煌本〈御注金剛般若經宣演〉の文獻學研究》(in Japanese) and《佛教文獻論稿》(two books). In addition, he has published extensively with over 40 academic papers in China and overseas journals.