Speaker: Venerable Dr. Ding Yuan
Lecture 2: Textual Issues Raised by the Japanese Manuscript of Huijiao's Biographies of Eminent Monks
Date: December 14, 2020
Time: 6:30-8:00 pm (HKT)
Click here for the lecture recording.
Abstract:
Huijiao's Gaoseng zhuan 高僧傳 ("Biographies of Eminent Monks") is an important document to study the early Chinese Buddhist history, as well as the social, cultural and intellectual history of medieval China. Thus far, the study of the Gaoseng zhun relies on the editions found in several block-printed Chinese canons, but the manuscript preserved in Japan is sufficiently different from its Chinese counterpart that it could be said to represent a distinct system. The discovery of this Japanese manuscript has raised a series of questions for the study of the Gaoseng zhuan. This lecture presented the similarities and differences between the Chinese and Japanese system. In addition, by tracing the textual history of the Gaoseng zhuan, the lecture presented opinions on the chronological order of the two systems.
About the speaker: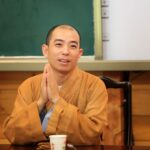 Venerable Dr. Ding Yuan completed his M.Phil. in Buddhist Studies at the Hanazono University in Kyoto, Japan in 2008. In 2011, he obtained his Ph.D. in Buddhist Studies at the International College for Postgraduate Buddhist Studies in Tokyo, Japan. He has served as a researcher for the Research Institute for Japanese Manuscripts of Buddhist Scriptures at the International College for Postgraduate Buddhist Studies (Tokyo, Japan) from 2011 to 2013 and is now the Visiting Associate Professor of the Centre of Buddhist Studies, The University of Hong Kong, and Associate Professor at the College of Philosophy, Law & Political Science, Shanghai Normal University in China. He is specialized in Buddhist philology and his key research areas include the study of Dunhuang manuscripts and old Japanese manuscripts of Buddhist scriptures. His published books include《敦煌本〈御注金剛般若經宣演〉の文獻學研究》(in Japanese) and《佛教文獻論稿》(two books). In addition, he has published extensively with over 40 academic papers in China and overseas journals.