* Please note this event has been updated to online only.
Speaker: Professor Wu GUO (Shandong University)
Date: Monday, November 27, 2023, 7:00 PM PST
Zoom registration: https://ubc.zoom.us/meeting/register/u5Iqf-ugpjsiH9wrONuaYHAj7OOa0vnm6jpp
Abstract:
Most people know that Daoist master Chen Yingning 陳攖寧 has endeavored to promote his immortal theory (Xian-xue 仙學) at Shanghai in the 1940s, but they do not know this phenomenon had only continued several years before he took back it. Through investigating the development process of Chen Yingning's Xian-xue, we can find his attitude towards Buddhism shifted from "san-jiao yi-guan" 三教一貫 (Confucianism, Buddhism and Daoism are consistent) to "xian-fo pan-jue" 仙佛判決 (separating immortal theories from Buddhism), and then showed affinity with Buddhism again. Although there were many factors impacting Chen Yingning's thoughts, Buddhist monk Taixu 太虛 was one of the important influences.
About the speaker: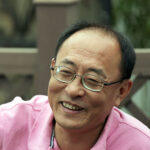 Professor Wu GUO is the Executive Director of Jao Tsung-I Institute for Studies on Religions and Chinese Culture at Shandong University. He was a visiting scholar of Harvard-Yenching Institute in 2007, and a senior research fellow of the Institute for Chinese Studies at University of Oxford in 2011. He is currently the Vice-Chairman of the Association for Studies on Laozi's Daoist Culture, and Chief-Editor of Hong-dao (《弘道》) journal published in Hong Kong. His research fields are Daoist history and Daoist thoughts. His works include Studies on the Jin-ming Zhong-xiao Quan-shu: An investigation on the background of Song and Yuan Dynasties, and Daoism and the Culture of Yunnan: the Spread, Evolution and Influence of Daoism in Yunnan.