Date and Time: Wednesday, November 2, 2022 – 4:00pm
Location: Room 218, Sterling Memorial Library, 120 High Street, New Haven, CT 06511
Speaker: Xin Wen – Assistant Professor of East Asian Studies and History, Princeton University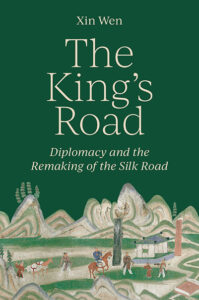 The King's Road offers a new interpretation of the history of the Silk Road, emphasizing its importance as a diplomatic route, rather than a commercial one. Tracing the arduous journeys of diplomatic envoys, Xin Wen presents a rich social history of long-distance travel that played out in deserts, post stations, palaces, and polo fields. The book tells the story of the everyday lives of diplomatic travelers on the Silk Road—what they ate and drank, the gifts they carried, and the animals that accompanied them—and how they navigated a complex web of geographic, cultural, and linguistic boundaries. It also describes the risks and dangers envoys faced along the way—from financial catastrophe to robbery and murder.
Using documents unearthed from the famous Dunhuang "library cave" in Western China, The King's Road paints a detailed picture of the intricate network of trans-Eurasian transportation and communication routes that was established between 850 and 1000 CE. By exploring the motivations of the kings who dispatched envoys along the Silk Road and describing the transformative social and economic effects of their journeys, the book reveals the inner workings of an interstate network distinct from the Sino-centric "tributary" system.
In shifting the narrative of the Silk Road from the transport of commodities to the exchange of diplomatic gifts and personnel, The King's Road puts the history of Eastern Eurasia in a new light.
About the Speaker: Xin Wen (Ch. 文欣) is a historian of medieval China and Inner Asia. His work goes beyond the dynastic units of Tang (618-907) and Song (960-1279), and situates "China" in the connected world of Eurasia.
This event is being co-sponsored by the Council on East Asian Studies and Glorisun Global Network for Buddhism
See the original post