The Development and Evaluation of a Novel Group-based Mahāyāna Buddhist Intervention, Awareness Training Program
by Dr. Bonnie W.Y. Wu, Ph.D. (HK)
Lecture 4 of New Frontiers in Buddhist Studies Online Series
Click here for the original event post.
Date: Dec 03, 2020
Time: 6:30-8:00 pm (HKT)
Abstract
Over the past decades, mindfulness-based interventions have been verified to be effective in reducing stress and related problems. However, there is growing concern that some of the mindfulness-based interventions have been developed in an "out of context" manner. Awareness Training Program (ATP), which is doctrinally aligned with the Saṃdhinirmocana Sūtra so that its theory and praxis are coherent, was formulated by Venerable Sik Hin Hung and the presenter in response to this growing concern and the immense needs of the non-clinical adults with stress problems, particularly in Hong Kong. The ATP aims to enhance a person's ability to deal with suffering by developing one's compassion and the wisdom of nonattachment, which are two of Mahāyāna Buddhist fundamental practices. This presentation will outline why "Mahāyāna Buddhist teaching", "textually aligned" and "coherent theory and praxis" are regarded as important components when formulating a Buddhist-based intervention. The theoretical foundations of ATP as well as its empirical findings will also be presented.
About the speaker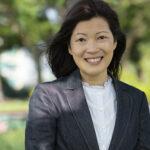 Dr. Wu is a Lecturer at The Centre of Buddhist Studies, The University of Hong Kong. In 2019, she has received her Ph.D. in Buddhist Studies from The University of Hong Kong. Her doctrinal work focused on the development and evaluation of a new group-based Mahāyāna Buddhist intervention, Awareness Training Program (ATP).  She has published articles on Buddhist-based interventions and neuroscience of meditation as well as books and manuals on Buddhist Life Education for primary and secondary schools. Dr. Wu has been learning and practicing meditation for more than a decade. She is also a registered social worker. She received her B.SW. from The University of Hong Kong with First-Class honors.