The Development of a Theoretical Orientation for Counselling based on Early Buddhist Teaching
by 
Dr. Kin Cheung (George) Lee, PhD (Alliant)
Lecture 1 of New Frontiers in Buddhist Studies Online Series
Click here for the original event post.
Click here for the recording.
Date: Nov 20, 2020
Time: 6:30-8:00 pm (HKT)
Abstract
In the midst of extracting Buddhist teaching into psychotherapeutic interventions in the current field of psychology, little is known about one fundamental question: Can Buddhism become a standalone theoretical orientation? This lecture attempts to answer this question in two ways. First, the lecture will propose a model of theoretical orientation using the five Nikāyas as a source of information to address the dimensions of a theoretical orientation, including: (1) Central Theoretical Constructs, (2) Basic Philosophy of Human Nature, (3) Human Development, (4) Healthy Ideal, (5) Causes and Nature of Dysfunction, (6) Nature and Process of Counselling, (6) Role of Counsellor, and (7) Interventions and Techniques. Secondly, the lecture will introduce a conceptual treatment model based on the orientation, known as Note, Know, Decide. The lecture also consists of brief comparisons between psychology and Buddhism to illustrate the uniqueness of a Buddhist theoretical orientation and short case examples to suggest the practicality of Note, Know, Decide.
About the speaker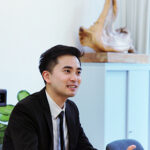 Dr. Kin Cheung (George) Lee is a lecturer at The Centre of Buddhist Studies, The University of Hong Kong, and a founding member of the Master of Buddhist Counselling program as well as the Postgraduate Diploma in Professional Buddhist Counselling. Dr. Lee has published in the areas of Buddhist mindfulness, Buddhist-derived interventions, and treatment models based on Early Buddhist teaching. Clinically, he is a California licensed psychologist (PSY28022), a registered clinical psychologist of Hong Kong Associations of Doctor in Clinical Psychology, a fellow member of the Asian Academy of Family Therapy, and a certified therapist in Trauma-Focused Cognitive Behavioural Therapy.