The Glorisun Global Network for Buddhist Studies proudly presents a lecture by Professor Liu Yi 劉屹 (Capital Normal University)
When: 4 pm, Thursday, October 10, 2019
Venue: Yale University, 1879 Hall, Room 137
Abstract:
The Dazhushengku 大住聖窟 (Great Abiding Holy Ones Cave) of Lingquan temple at Baoshan 寶山 was constructed under the supervision of the eminent monk Lingyu (518-605). Since the 1920s scholars have studied the extant caves, architecture, and stone-carved scriptures at this site. Lingyu's early biography records that he "had specially engraved the image of the extinction of the Dharma at front of the cave" when he founded the Dazhushengku. Previous scholars have interpreted this to mean that he carved on the walls inside and outside the cave Buddhist scriptures pertaining to the theme of the "extinction of the Dharma" such as the Daji jing 大集經 (Great Collection Sutra) and Mohemoye jing 摩訶摩耶經 (Mahāmāyā-sūtra). In this presentation Professor Liu argues that the so-called "image of the extinction of the Dharma" in fact refers to the two deity statues and the set of statues of one Buddha and two bodhisattvas on the cliff at the eastern side of the cave entrance and that the famous carved texts located at the western side of the cave entrance were engraved only after Lingyu's period. The deity statues from the Dashushengku represent, it will be suggested, the first known Buddhist visual depictions of the "extinction of the Dharma," an idea whose importance in the history of East Asian Buddhist eschatology cannot be overemphasized.
About the Speaker: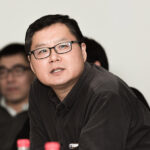 LIU Yi is professor and Dean of School of History at Capital Normal University and also the secretary of the Association of the Dunhuang and Turpan studies in China. His research interests include the Dunhuang studies and the medieval history of religion. For the past 20 years, he has been working on the history of Daoism and the Daoist scriptures. In terms of the former, he challenges the historical paradigm in which the sect of the Celestial Masters came directly down from the sect of the Five Pecks of Rice in the early Daoist history. In terms of the latter, he has specialized in the studies of such Daoist texts as Scripture on Great Peace, Xiang'er's Commentary on Laozi, and Classic on Laozi's Conversion of the Barbarians, and the Lingbao Scriptures of the Six Dynasties. He has recently shifted his research to the medieval Buddhist studies and is especially interested in the issue of the "Age of Dharma Decline." He has published about 110 research articles, book reviews, and translated articles and 6 books and collected volumes. The latest books include Historical Research on the Daoist Guling Baojing in the Six Dynasties (2018) and Research on the History and Scriptures of the Daoism in the Han and Tang Dynasties: Selected Works of Liu Yi (2015).
See original event posting here.
For more information, please contact Eric Greene.