Photo by Tim Umphreys of Unsplash
Date: June 8, 2022.
Location: Hamburg University, ESA East, Room 221
Abstract: The talk aims to give a brief survey of the voyages undertaken by Buddhist monks who traveled between India and China during the early period (305–435) when Buddhism spread via the maritime Silk Road from India and Sri Lanka towards China. These maritime routes concern a large number of Chinese pilgrims traveling to India searching for Buddhist Dharma as well as some learned Indian monks who were invited by Chinese monasteries to be teachers.
My investigation focuses on three Indian monks: *Jīvaka (耆域: arrived in Luoyang 洛陽 about 305–307, §2), Buddhabhadra (佛馱跋陀羅: 359–429, arrived in Qingzhou 青州 about 407–408, §3), and Guṇabhadra (求那跋陀羅: 394–468, arrived in Guangzhou 廣州 in 435). Esp. Guṇabhadra´s worship of Avalokiteśvara as sailor´s patron can be compared to that of Faxian (voyage during 410–412), as a means of tracing the origin of this cult and of the Lotus Sūtra (§4).
Other aspects examined here include the motivation of those monks for such a venture, the danger and difficulties they had to deal with, and their relationship to the merchants and lay followers (dānapati). Furthermore, I´ll try to capture and reconstruct the recorded seafaring route including some important survival bases on the voyage, the nationality of merchants using the maritime silk route in the early 5th century as well as their shipbuilding and seafaring technology (§5).
About the Speaker: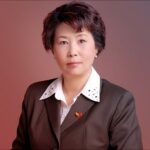 Trained in Indology, Tibetology, Sinology, Buddhist and Iranian Studies in China (Peking Univ.) and Germany (Göttingen),  Haiyan Hu-von Hinüber has held professorial appointments, teaching and serving at the universities of Freiburg (1987–88, 1997–2016), Copenhagen (1988–1991), Vienna (1991–1996) and Erfurt (2018–2022). She has also been visiting scholar and professor in France, Japan, China, UK and USA. The main areas of her interest comprise the philological studies on the Buddhist law (vinaya) and the early history of Buddhism, esp. the Sanskrit manuscripts and inscriptions found in Central Asia and Tibet as well as the Buddhist Hybrid Sanskrit as preserved in these old texts. Also  the Sanskrit-Tibetan lexicography, the comparative studies of early Buddhism and Jainism, the biographies of Chinese pilgrims to India, the Buddhist art and narrative literature, the translation and transmission of the Chinese Buddhist canon, and the resurgence of Buddhist monasteries in China after 1978 belong to her research areas.
Hu-v. Hinüber is author or co-author of seven books concerning Buddhist and Asian studies, and she is editor or co-editor of five antologies. She published about 80 research articles and a series of book reviews, academic essays as well as conference reports. In addition, she translated a number of books and research articles from German and English into Chinese. From 1983 to 2022, she gave more than 80 acedemic lectures in Europe, Asia and America. In 2015, she obtained the appointment as Professor-at-large of Shandong University in the homeland of her parents. In 2017, she became appointed as Senior Researcher at the Center of Indian Studies of Shenzhen University and Associate Member of the Center of Jaina Studies of London University (SOAS). Since 2018, Hu-v. Hinüber is Fellow (and Assoziierte)  at the Max Weber Center of Social and Cultural Studies of University Erfurt. In 2019, she was appointed by her alma mater as Senior Researcher of the Center for Buddhist Studies at Peking University.
Hu-von Hinüber is member or board member of several academic associations and journals, such as Deutsche Morgenländische Gesellschaft, International Association of Buddhist Studies, International Association of Sanskrit Studies, Société Européenne pour l'Etude des Civilisations de l'Himalaya et de l'Asie Centrale, Chinese Association of Vijñaptimātratā Studies, Schweizerisch-Indische Gesellschaft, and Deutsche Vereinigung für Chinastudien.
See original posting