Click here to return to the main conference page.
Click here to return to Books.
Narratives of Buddhist Practice: Studies on Chinese-Language Canonical Compilations and Translations (Selected Essays by Koichi Shinohara)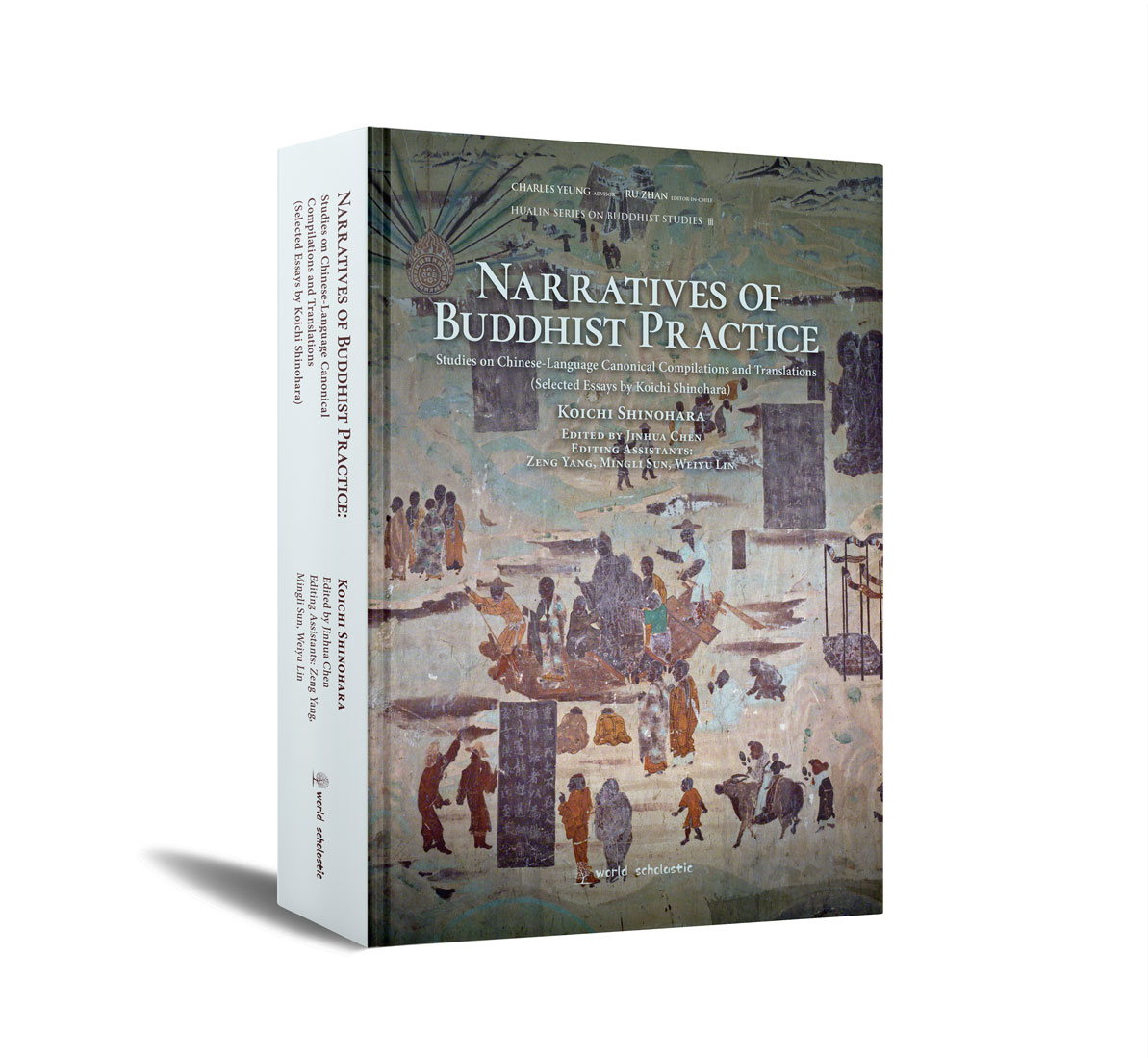 Koichi Shinohara
Edited by Jinhua Chen, with assistance of Mingli Sun and Weiyu Lin
Paperback ISBN 978-981-18-2081-6
Hardcopy ISBN 978-981-18-2284-1
The present volume collected and fully edited ten articles by Koichi Shinohara that represent his most salient contributions to the studies of East Asian Buddhism. The articles approach the topic of Buddhist practices by examining the stories that are told about them in the Chinese Buddhist canons—stories that bear on different themes and come from diverse genres, such hagiography, sacred geography, vinaya, myths, miracle stories and esoteric rituals. Shinohara especially draws from the works of two prominent Tang Buddhists—Daoxuan 道宣 (596–667) and Daoshi 道世 (?–683) on which Shinohara is indisputably one of the leading experts in the world. Adept at discerning inter-textual relationships and making apparent subtle implications, Shinohara unpacks for us the sources, tension, intentions, and strategies that went into the writing of each text that he examines, imparting us numerous insights that would coalesce into a coherent vision about Chinese Buddhist practices that is successfully contextualized within the intellectual and religious traditions at the time and in relation to specific historical events.
Hualin Series on Buddhist Studies: Preface
1.  Biography and Sacred Place
1.2.  From Local History to Universal History: The Construction of the Song Tiantai Lineage
1.3.  The Story of the Buddha's Begging Bowl: Imagining a Biography and Sacred Places
2.  Monastic Practices: Rules and Stories
2.1.  The Kāṣāya Robe of the Past Buddha Kāśyapa in the Miraculous Instruction Given to the Vinaya Master Daoxuan (596–667)
2.2.  Stories of Miraculous Images and Paying Respect to the Three Jewels: A Discourse on Image Worship in the Seventh-Century China
2.3.  The Moment of Death in Daoxuan's Vinaya Commentary
2.4.  Writing the Moment of Death in Biographies of Eminent Monks
3.  Esoteric Buddhist Ritual
3.1.  Removal of Sins in Esoteric Buddhist Rituals: A Study of the Da fangdeng Tuoluoni jing
3.2.  The Esoteric Buddhist Ritual of Image Installation
3.3.  The Ritual of the Buddhoṣṇīṣa Vijaya Dhāraṇī Maṇḍala
Index
Endorsements
From about the middle of the first millennium CE the Buddhist tradition, as it spread across Asia, came to establish itself in China within a cultural area where preserving knowledge of the past in writing was already a well established practice. This encounter has provided us with copious information about the way in which Buddhism worked not only from within the tradition but also from sources transmitted as part of the general Chinese heritage. These incomparably rich materials can only be exploited by scholars prepared to examine them in detail from both inside and outside the tradition with the requisite qualities of erudition and sympathy. In the English-speaking world Kōichi Shinohara has conspicuously led the way in this, setting clear standards for a whole generation of younger scholars to emulate.   ——T. H. Barrett (SOAS University of London)
No-one has done more than Koichi Shinohara to improve our understanding of the nuances and textures of medieval Chinese Buddhism. His close and sensitive readings of primary sources offer a masterclass in textual scholarship. His painstaking unpicking of difficult passages and unending curiosity about their authors and readers are a continuing source of inspiration to all of us.   ——James Benn (McMaster University)
The erudition of Koichi Shinohara is splendidly manifested in this volume of selected papers. Here, he masterfully reveals many sophisticated aspects of medieval Chinese Buddhism. His meticulous textual analysis and careful documentation tell the multiple lives of Buddhist texts, doctrines, rituals, figures, and material culture, which often help us refresh our understanding of medieval Chinese Buddhism. Like many other scholars, I benefit from these papers tremendously in both research and classroom teaching. The significant impact of his scholarship on the field will certainly attract numerous readers for generations to come.   ——Huaiyu Chen (Arizona State University)
Scholars are well acquainted with Koichi Shinohara's articles in various publication venues, but there is something  special about having them gathered in this collection. One can better appreciate the evolution of his career as he addressed key themes and issues in the study of Chinese religions—from biographies and sacred space to miracle stories and esoteric rituals—all the while grounding his work in the careful reading of a wide range of primary sources. He is known for his work on the All-Gathering Maṇḍala Ceremony—which brought together and synthesized many rituals—and so it is fitting to have his own works brought together. Rather than establish a special bond with a deity by throwing a flower into the maṇḍala, the reader can establish a bond with his ground-breaking scholarship by reading his rich and learned contributions to our field.   ——James Robson (Harvard University)
Throughout his long career, Koichi Shinohara produced an extensive body of work covering a diverse range of topics and themes in medieval Chinese Buddhism. Whatever the topic, his writings always evince a keen attention to philological and historical exactitude, coupled with his special gift for uncovering what lies beneath the surface of the textual record. The editors of this volume have done a great service by bringing together ten of Shinohara's most important (but not always easy to access) articles, each of which testifies to the discerning and insightful manner in which he handles his materials. This collection will serve as a model of superlative scholarship on Chinese Buddhism for generations to come.   ——Robert Sharf (University of California, Berkeley)